How I increased my traffic by 380% (low budget)
This blog was started in July 2017, a few months after starting my YouTube channel. It was an extension to my video content but I didn't think I would have the necessary time to invest in it.
3.5 years of flat traffic
This is how 3.5 years of flat traffic looks like. From July 2017 to December 2020 my stats were about the same. I would typically get 1500 – 2500 visits per month.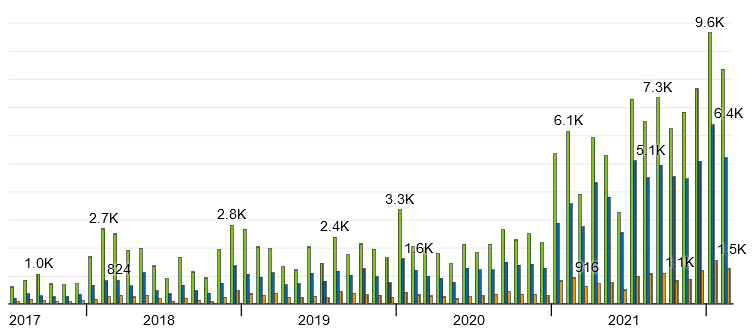 How I "managed" to achieve this? Well it's simple. I just posted 1 article a month (maybe), I didn't do keyword research before writing a post and I didn't do anything to get external links. I was thinking that it's hard to rank in top 10 SERPs for IT related topics with a 1 man blog. I was wrong.
What was my strategy?
Well, it was fairly simple. In December 2020 I wanted to do a test and work for a month on researching some keywords, posting useful content and getting links.
Keyword research
First thing I did was to open Google Search Console and have a look what information I got there. Have to mention that I created a Search Console account in 2018 but I didn't use it afterwards (it was active but I didn't login to browse the data).
I was amazed that my website had data. I had about 200 impressions per day and 20-25 clicks (that' a CTR of about 12%) with 38 articles and a few other small pages. I opened the Performance page on GSC and saw the most popular keywords I had in my content. Most of it was related to IT salaries and OOP programming.
It was a stating point. If I can rank for salaries and OOP then I could be ranking for other keywords around these. So I started using Google Keyword Planner, Neil Patel's Ubsersuggest and Keywords Everywhere extension to find out what people search around these topics. I was mostly looking at my competitors (what other pieces of content they have besides the ones competing with me), at search volume for keywords and trying to find suggestions and long-tail-keywords.
It didn't take too long until I found out that people search for "qa salary" or "scrum master salary" and not just "IT salaries" for example. So what next? Let's write some content.
Cost: free
Create content
The first month I started writing seriously (January 2021) I managed to create 10 articles. This is what I would post in one year typically but now I had it in one month. I was writing articles that offered value to the reader but in an SEO way by using the keywords I found in the title and articles themselves. That month I've written one of the most popular articles on the website that still gets a lot of organic visits. The articles were posted quickly without any strategy. If the article was ready to publish it would get published right away. It kind of worked. Below you can see how I constantly get 2200 – 2600 views and in January 2021 jump to 5300+ views. The articles were indexed fast by Google and contained exactly what people wanted to know (read here about user intent).
Writing blog posts has the advantage of repurposing the content. You can convert image to videos, convert text to video or simply use the blog as a script for your YouTube video.
Cost: free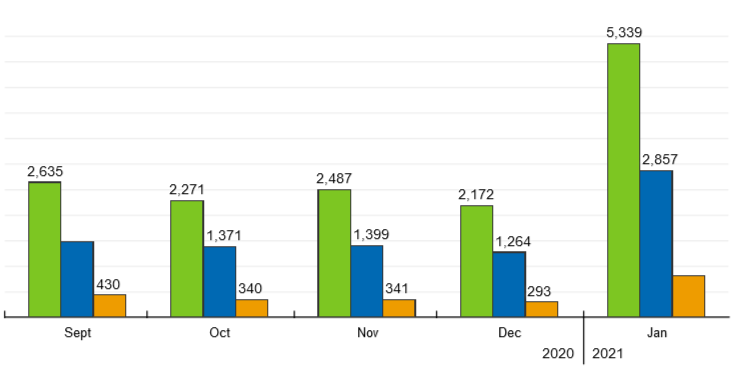 Getting links
This was the part I was afraid of. I am not the kind of guy that reaches out to people to promote his articles or blogs. I'm not the best seller, even if what I offer is good.
So I started to search for places I could integrate my content fairly easy. I responded to a few Reddit questions by adding some value and posting an article link. I did that on some forums, UGC websites and blog comments. It wasn't the best strategy as most of the links were no-follow but it helped a bit indirectly. People started reading my posts and linked to me from their websites in some cases.
Cost: free
I am onto something
Seeing these results, I continued the strategy for another 3-4 months until I had a 200% growth for organic searches each month (even if it was a passive one where I didn't post too much or did anything to the blog). It was a nice experiment but I wanted to go further and see what happens.
Stage 2
This was about optimization. I wanted to continue the research and content strategy but make things easier in order to scale faster. Adding more posts and getting more links would continue to increase my stats but I couldn't write 10 articles per month, do the research for a long period of time as this blog is a side project and not my main source of income.
Get content writers
For this I had to reach out to my community. Most of it is composed by students that are passionate about IT. So I posted on social media that I would open my blog to anyone that wants to write an IT related article. They would get visibility and be able to promote their personal website and I would get a new article. That's a win-win situation.
The second method I used was to find students that wanted to make an extra buck by writing articles for me. Usually students are not as good as professional writers but they are cheaper. It was faster for me to let them write an article (based on some guidelines and keywords I sent) and edit/add small things than writing the full post myself. This worked well after collaborating with 3 students from technical universities (they knew the topics). I was able to get 50 articles in a period of 6 months.
Cost: $600
Getting betters links
I started searching for blogs or websites that had complementary content to the posts I have and got in contact with the owners. I was presenting myself to show them we have similar interests and that my content can help improve theirs. This way I was able to get about 5-6 good back-links for my blog for free.
Another method was to create a few articles that could be added in newsletters. This is an article that features a popular security tester. After a short email exchange he agreed to do a written interview for my blog. That article was then added to Pentester.Land newsletter/article as a do-follow link.
Cost: free
Getting links faster
I started spending some time on websites like Expired-Domains.co in order to find good quality domains with lots of backlinks that expired. I didn't think this would help too much so I just bought 2 domains. These domains were not even in the same niche as me but they were interesting. One was from a newspaper that closed and one was from a state institution that changed it's domain name but still got lots of back-links from other institutions of the state as they forgot to change the link.
After buying these domains I redirected them to my blog and started to monitor the Domain Authority for a few weeks. In about one moth I saw an increase of 2 (from 17 to 19). So I bought another expired domain that was used previously for a tech blog (in my niche) and in a couple of months my DA went from 20 to 24.
Cost: 25$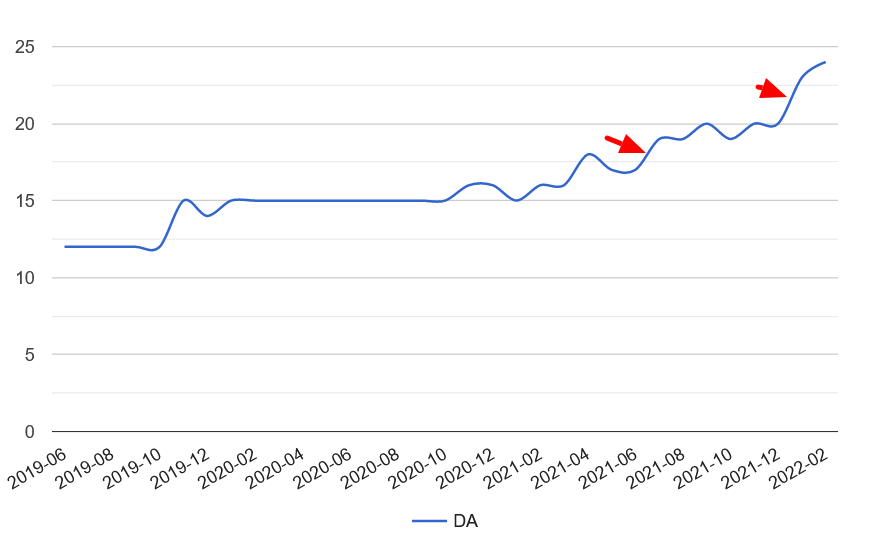 Final results
After a few key changes in the content and link-building strategy, with only $625 spent I managed to have a 380% increase of visits to my blog, from 2500 a month to 9600 a month. In GSC the blog went from 200 impressions and 25 clicks to 1100 impressions and 140 clicks a day (this is more than 400% growth).
Currently I have 140 articles published and 46 keywords I rank as no.1 result.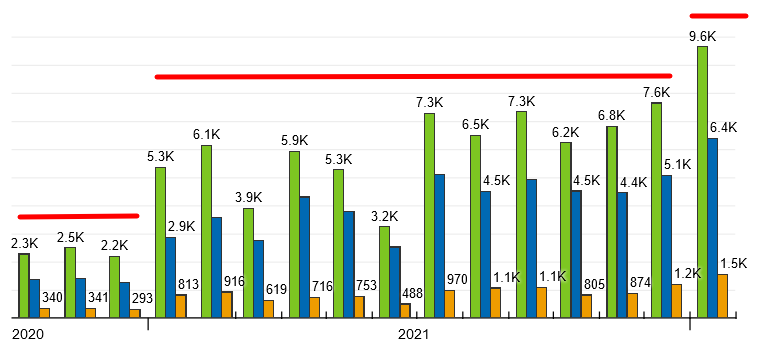 Conclusion
I still consider this whole thing as an experiment. It was a good experiment which made me understand that you don't need a big budget or a team of specialists in order to succeed in SEO. In the near future I want expand this experiment with a few other things related to Core Web Vitals.
Let me know what do you think about this experiment of mine.