5 tipuri de intrebari la testele tehnice de testare (QA)
In ultimii ani, procesul de selectie si de angajare in industria IT si nu numai a devenit unul destul de structurat, existand anumite etape foarte bine cunoscute si prestabilite. La inceput se depun aplicatiile candidatilor si se face un CV screening, adica o scanare a CV-urilor pentru a le descoperi pe cele mai bune, care sunt relevante pentru pozitia respectiva.
Ulterior, o parte dintre candidati primesc spre rezolvare un test tehnic cu intrebari specifice domeniului sau ariei respective, urmand ca in baza scanarii de CV si a testului sa fie chemati la interviul cu HR si/ sau cel tehnic aplicantii care au iesit in evidenta, in vederea cunoasterii lor si a unei eventuale ofertari.
Ce se intampla la un test si la un interviu tehnic?
Dupa ce recrutorul a studiat CV-urile primite in cadrul aplicatiei pentru locul de munca respectiv, acesta va trimite un test tehnic candidatilor (de regula celor care au aratat cu adevarat interes prin CV). Acest test tehnic de regula e anuntat din momentul trimiterii aplicatiei, si este stabilita fie o zi cand candidatul trebuie sa il sustina, fie se poate programa intr-un anumit interval orar atunci cand poate si il sustine pe o platforma online (de exemplu Google Forms).
Dupa sustinerea testului tehnic care vizeaza cunostintele specifice si modul de gandire, candidatii cu rezultate bune sunt invitati la interviuri. Aici depinde foarte mult de organizarea fiecarui proces de selectie in parte, la unele interviul cu HR-ul e separat de cel tehnic, in altele sunt combinate intr-un singur interviu unde participa un HR si liderul echipei din care urmeaza sa faca parte candidatul (persoana numita Hiring Manager).
La interviul tehnic se pot pune intrebari specifice din testare sau programare, se pot da exercitii de rezolvat, se poate discuta despre portofoliul personal si alte asemenea, scopul fiind sa se vada modul in care se desfasoara si interactiunea cu candidatul respectiv.
Categorii de intrebari la testele tehnice de QA
In continuare voi prezenta 5 categorii de intrebari pe care le-am observat in cadrul testelor tehnice de testare software pe care le-am primit sau gasit individual. Desigur, acestea nu sunt singurele tipuri de intrebari care pot sa apara, diversitatea lor fiind extrem de mare, iar cerintele angajatorilor in continua evolutie si adaptare.
De asemenea, modul in care sunt formulate poate sa difere, deci e important sa ne documentam cat mai mult in prealabil si sa invatam cat mai bine, nu sa tocim niste raspunsuri standard.
1. Intrebari de teorie din testare software (QA)
Probabil cea mai evidenta categorie din care ne putem astepta sa fim intrebati la orice test de testare este cea care tine de teorie. Aici intrebarile se axeaza pe notiunile principale cu care lucreaza un QA, precum test cases, bugs, tipuri de testare functionala/ non-functionala sau Black Box si White Box testing, sau despre metodologii de lucru si Agile.
Cateva exemple sugestive de astfel de intrebari sunt:
How do you define a format of writing a good test case?
What is the cycle of a bug?
What is the MAIN benefit of designing tests early in the life cycle?
Which of the following testing cannot be automated? Options: Exploratory testing; end to end testing; regression testing; Unit testing.
What does Status 403 means?
Which of the following is a functional testing type?
1) Stress testing, smoke testing, regression testing
2) regression testing, stress testing, smoke testing
3) smoke, integration testing, regression testing
4) integration testing, scalability testing, load testing.
Unele intrebari sunt cu raspuns liber in care poti formula asa cum vrei (eventual cu un maxim de cuvinte), altele pot fi de tip grila. Toate testele date au fost in limba engleza.
2. Intrebari de creativitate
O categorie extrem de interesanta si foarte intalnita de intrebari este cea care vizeaza creativitatea, in forme extrem de diverse si chiar surprinzatoare. Scopul lor este sa te scoata din zona de confort, sa te puna sa te gandesti la lucruri pe care in mod normal nu le auzi sau te gandesti ca nu ai cum sa fii intrebat tocmai tu respectivul lucru.
Abordarea lor este si ea diferita de la caz la caz, e important sa te folosesti de ceea ce stii, de situatii asemanatoare pe care le-ai mai auzit sau sa concepi raspunsuri originale pe loc. De multe ori nu exista neaparat un raspuns unic si corect, ca la cele de teorie, lucru ce ofera libertate de formulare a raspunsurilor.
Niste exemple ilustrative sunt:
What would be your (step by step) learning strategy to understand the language of horses? Explain your thought process. Max. 10 steps.
Describe what AI ChatGPT is to someone who just woke up from a 60-year coma. (max. 150 words).
How many decks of cards are there in Las Vegas?
Invent a new functionality for an existent application and explain its usability.
3. Intrebari de logica
Un alt set de intrebari destul de frecvent intalnit in cadrul testelor tehnice de testare este cel care vizeaza logica si gandirea structurata. Aici se pot face apel la diferite exercitii cu numere, secvente de ordine, sau situatii ipotetice in care atentia la detalii este extrem de importanta. Mai jos sunt cateva astfel de intrebari:
12345 corresponds to 6; 678910 corresponds to 4; 1112131416 corresponds to 3; 1616181920 corresponds to … ? Explain your answer.
Discover the rule of the below image: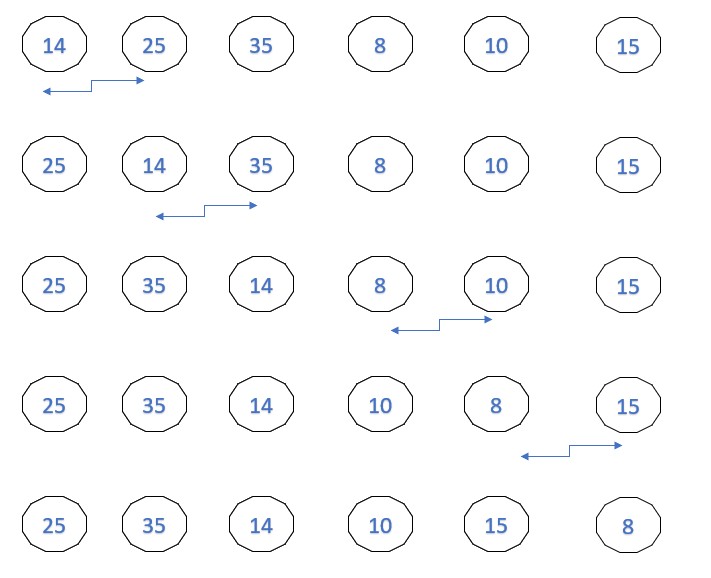 You are blindfolded and placed in front of a bowl containing bills of 5$, 10$, 20$ and 50%. You are allowed to reach in and remove bills one bill at a time. The drawing stops as soon as you have selected four-of-a-kind bills. What is the maximum sum of money you could extract before the drawing stops?
A boy bought a book for 17$, sold it for 18$, bought it back for 19$ and sold it for 20$. How much profit did he make?
A snail wishes to reach a water shore. To do this it must cross a wall which is 30 feet high. It has a time limit of 30 hours to reach atop the wall. The time starts as soon as it starts climbing the wall. However, he faces a problem while climbing. Every hour it climbs the wall 3 feet up, it slides down 2 feet. This occurs every hour. So how many hours will take for the snail to reach atop the wall?
If 1=3, 2=3, 3=5, 4=4, 5=4. Then 6=?
Solve the following equation: -20+ (-5x) = 0.
Which number is out of place from the next sequence: 3646 2536 5869 6957 1425 4758.
Se poate observa ca logica vizata nu tine mereu de testare sau de IT, ea poate fi aplicata in diferite contexte generale, din viata cotidiana, sau poate fi logica matematica.
4. Intrebari practice (sub forma de exercitii)
Aceste intrebari de regula se refera la situatii practice de testare, mai generale sau mai aplicate, si presupun oferirea unei situatii date, iar de acolo trebuie gandit un anumit mod de a verifica/ testa anumite lucruri sau de a gandi un anumit plan de urmat. Cum ar fi:

An input field takes the year of birth between 1900 and 2004. The boundary values for testing this field are:
(0, 1900, 2004, 2005);
(1900, 2004);
(1899, 1900, 2004, 2005);
(1899, 1900, 1901, 2003, 2004, 2005).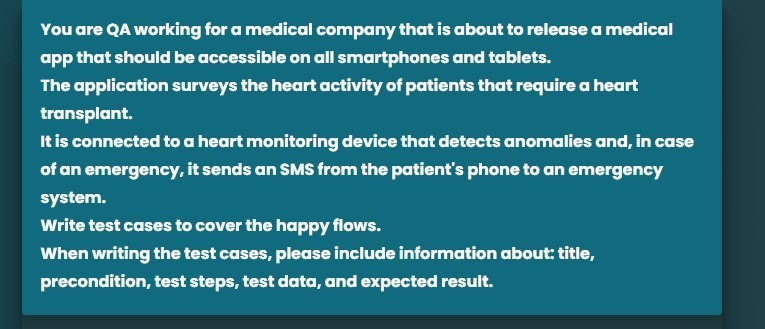 How would you test a glass of water?
How would you test a pencil?
How would you test a search box/ login page?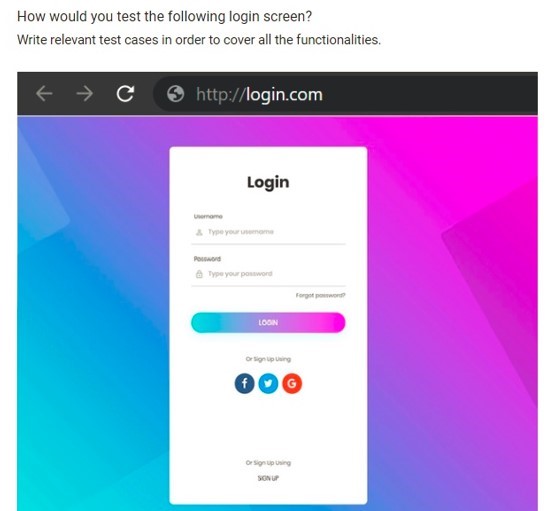 Estimate the preparation of the following dishes: hamburger, cream soup from 3 vegetables, donuts.
Intrebari practice pot fi adresate si la interviurile tehnice, unde eventual ti se poate cere sa testezi anumite site-uri, functionalitati sau sa imaginezi anumite scenarii de test.
5. Intrebari de programare
O ultima categorie prezentata ce poate aparea in testele tehnice se refera la intrebarile de programare. Chiar daca nu sunt neaparat specifice unui QA, acesta trebuie sa inteleaga codul care alcatuieste aplicatia respectiva si sa poata interactiona cu el la nevoie; sau daca este Automation Tester, si atunci trebuie sa scrie cod pentru a automatiza procesul de testare a functionalitatilor.
Aceste intrebari de programare sunt destul de frecvent intalnite mai ales in aplicatiile pentru internshipuri sau job-uri de Automation QA, unde cunostintele de programare sunt totusi necesare. Sa vedem si aici cateva exemple: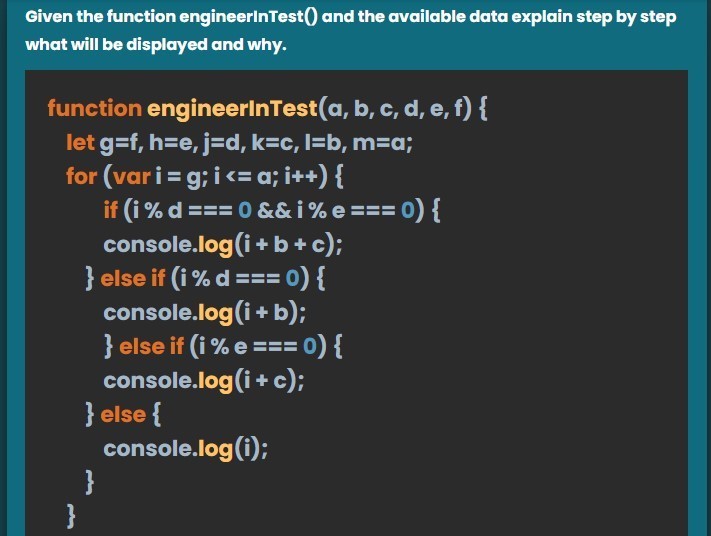 What does the algorithm below solve? Translate it into pseudocode.
Pe langa acestea, pot aparea intrebari de teorie ce tin de OOP (programare orientata pe obiecte si principiile sale) sau chiar exercitii de algoritmica, unele mai usoare, altele mai grele.
Concluzii
In incheiere, aplicarea pentru locurile de munca pe partea de testare software (QA) nu este neaparat un lucru simplu. Este necesara multa pregatire inainte, cunoasterea teoriei si cat mai mult exercitiu practic. Dupa cum am vazut, intrebarile care se pot strecura in teste si/ sau la interviuri sunt destul de diverse, si vizeaza multe detalii si aptitudini ale candidatului, precum teoria, logica, creativitatea sau gandirea algoritmica.
Astfel, pe langa pregatirea individuala, este important sa te inscrii si sa iei parte la cat mai multe astfel de teste, pentru a te pregati si a fi deschis la cat mai multe tipuri de intrebari care iti pot fi adresate. In mod inevitabil, unele teste poate ca sunt exagerat de grele, dar niciunul nu seamana cu celalat, iar rezultatele vor aparea in timp.
Intrebari asemanatoare se pot gasi si pe internet, unde sunt liste intregi cu intrebari pentru testare software.